Newfoundland Massage Therapy Continuing Education Requirements
It is our understanding that Registered Massage Therapists practicing in the province of Newfoundland and Labrador must obtain 30 massage therapy continuing education units during the 3-year licensing cycle where 20 units must be earned from Category A and the rest from either Category A or Category B.
According to the College of Massage Therapists of Newfoundland and Labrador, massage therapists can fulfill their continuing education requirements by taking courses approved by the College of Massage Therapists of Ontario (CMTO).
What We Can Do For You!
You may take all 30 units of continuing education through any of our Category A College of Massage Therapists of Ontario (CMTO) approved home study programs or a maximum of 10 units from any of our Category B approved programs (click on any course below for more information).
Note that while the below courses have been specifcially submitted for approval, the CMTO will accept all of our programs as they meet the requirements of: an approved activity where learning takes place; topics related to an approved competency/modality; and the learning outcome relates to the practice of massage therapy.
If you would like to verify this information, or have further questions regarding your massage therapy continuing education requirements, we suggest contacting the Newfoundland Board of Massage directly. The telephone number for the Newfoundland Board is 888-739-7181.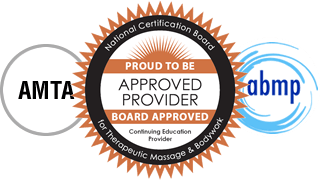 The Institute for Integrative Healthcare Studies is approved by the NCBTMB as a continuing education Approved Provider (#049478-00). All of our continuing education programs can be used for National Certification renewal.
You may also use our credits for other organizations you may belong to, such as the American Massage Therapy Association (AMTA) or Associated Bodywork Massage Professionals (ABMP).